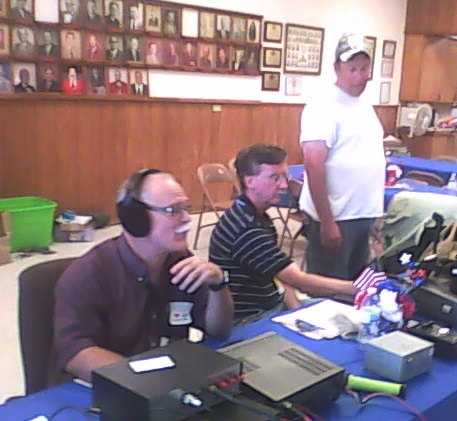 THE NEXT MONTHLY MEETING OF OAK FOREST AMATEUR RADIO CLUB IS IN OCTOBER 2017!!! The October meeting is being held on October 21, 2017. As usual, we will meet at Denny's for breakfast at 8:00AM, followed by the meeting at the Oak Forest Masonic Lodge starting 9:00AM.
We encourage club members to consider purchasing a club shirt (or a new HAT). Jim (KD5WVE) is putting together orders, and we can get a better deal if we order several... If you would like to order a shirt (or a hat), please contact Jim at KD5WVE.
Announcements
Notice: The October 2017 OFARC monthly meeting will be held on the third Saturday of the month (21st) to coincide with the JOTA event.
Activities for the Next OFARC Meeting
The club will be hanging HF antennas and setting up radios to support the JOTA event. Scouting troops and the general public are welcome to join us, get on the air and learn about amateur radio. For additional information, see the JOTA link above.
Shack of the Many Months - Wow!! Richard Arvedson (KF5RSA)