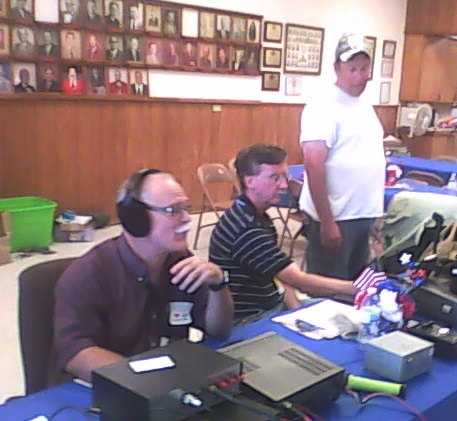 REMINDER - THERE IS NO MONTHLY MEETING IN DECEMBER 2016 !!!
THE NEXT MONTHLY MEETING OF OAK FOREST AMATEUR RADIO CLUB IS IN JANUARY 2017 !!! The January meeting is being held on January 28, 2017. As usual, we will meet at Denny's (34th & 290) for breakfast at 8:00AM, followed by the meeting at the Masonic Lodge in Oak Forest at 9:00AM.
We encourage club members to consider purchasing a club shirt (or a new HAT). Jim (KD5WVE) is putting together orders, and we can get a better deal if we order several... If you would like to order a shirt (or a hat), please contact Jim at KD5WVE.
ACTIVITIES FOR OFARC
Annual OFARC Christmas Dinner (members only please) Sat Dec 10 2016 2:00PM - Logan's Roadhouse, US 290 between Pinemont and Hollister
January - Bring your HT radios! We will be programming everyone's radio with newest repeater info!
February - Dick Wilkie will be giving a presentation on modern digital radio systems
March - Soldering Clinic, Club Elections
April - Discussion on use of Anderson Powerpoles
Shack of the Month - Wow!! Richard Arvedson (KF5RSA) sent me a photo of his station! I promise to post it shortly! Still looking for photos of other member stations, as well! Take a picture of your shack/rig/hideout, and send it to Rusty at KF5OOX. We'll post a different photo every month!